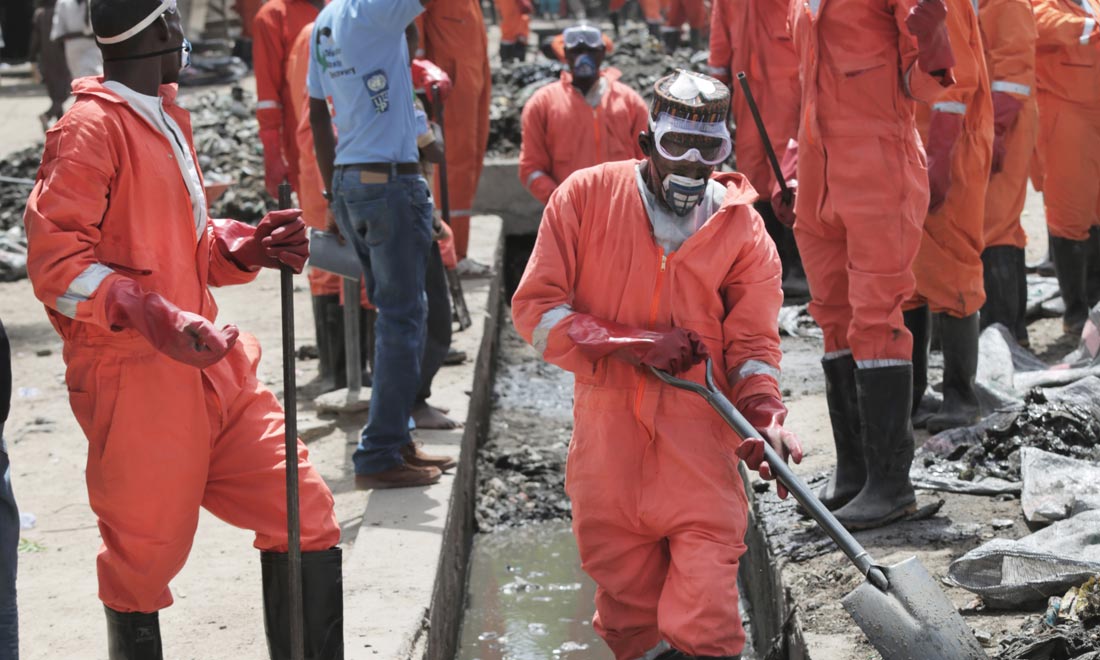 24 May

Emergency Cleaning up in Maiduguri – Early Recovery style!

We are proud of our DWR colleagues in North East Nigeria who have started waste clean up and management in Maiduguri. DWR's First batch of 500 of 1000 beneficiaries are now removing wastes from the streets and drainage channels, helping to reduce public health risks and support early recovery in these difficult times for Maiduguri.

The second batch of 500 workers will begin work in June. In light of the incoming rainy season this work has become crucial to the local government and also part of the Early Recovery contingency planning for the next few months. Also part of this project is the unconditional cash transfer that every worker will receive at the end of the working month. Each of the 1,000 beneficiaries will receive a total of NGN 40,000 that will indirectly assist 8,364 people within the communities that we are working in. With a strong emphasis on gender equality the DWR workforce is made up of 60% females and 170 of those are from Female Headed Households.
One beneficiary named Ibrahim Dibal (pictured here) explained that " This work has allowed me to get back to normal, I am ready to work and the money will help feed my family. Also, I have been able to work alongside people in my community that I never knew were here. Especially those who are IDP's, we are normally not friends but through working with them I now have many more friends"
In partnership with Danish Demining Group. We have been able trained more than 1024 people in Mine Risk Education (MRE) as well as Occupational Health & Safety, ensuring that all workers on site are trained to a high standard. Alongside the Mine Action Sector, we have also played a crucial role in assisting partners in training in excess of 120 community leader/elders in an intense MRE course so when areas of Borno State become cut off logistically, a focal MRE person will be on the ground to assist farmers when planting crops.
To support the local authorities we are also training more than 50 government staff from the Environmental Protection Agency, Ministry of RRR, Health, Agriculture, Works and Water Resources…..resilience in the government sector is a key priority for our project.
With Swiss and UNDP funding, the DWR teams will clean large parts of the town and we will keep you all informed as works progress.
Thanks!
Martin